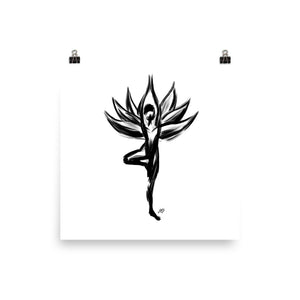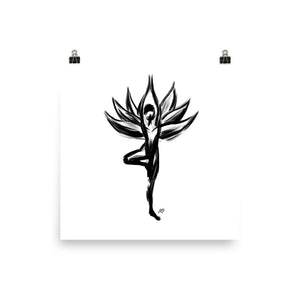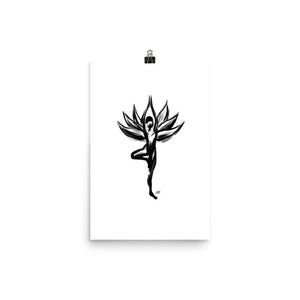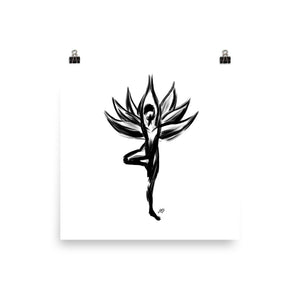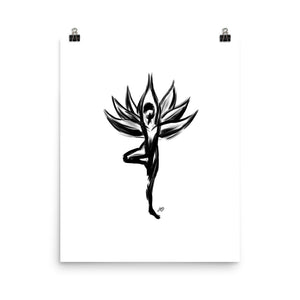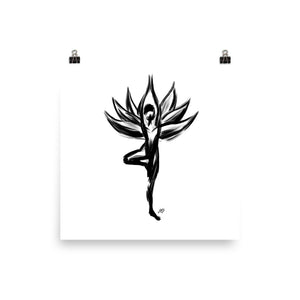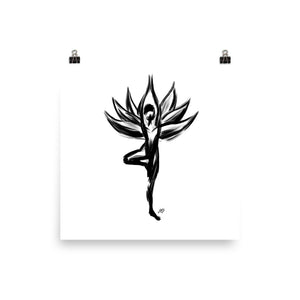 Tree Pose, Lotus Yoga - Poster
About the art: Bold black brush strokes over pure white. There is no ornament or distraction, as a skilled yoga practice should be. Feel the confident gesture captured and hanging on your wall fill the whole space with purpose and calm. 
In Depth: Balance is not about being perfectly grounded (no offense, shavasana!). Balance is letting go of some security, some comfort, to reach for new heights. In preparation for an act of balance we ground ourselves. Become sure of yourself and your reality. Then we begin lifting portions of ourselves off solid ground, one limb at a time. It takes effort, concentration, we fail, and try again. If life feels like a constant balancing act from morning till night, something has gone wrong! You may need to find solid ground for yourself (which can be scary, as it may mean finding a new job, releasing toxic relationships, or just being more kind to yourself!).
Display this in your office, bedroom, studio, or entryway to fill the space with the spirit of balance. Abundant growth from solid foundations.